Our caring and knowledgeable dentists in Glendale, Arizona, and Phoenix, Arizona, look forward to fulfilling your dental needs now and for many years to come. We believe in establishing a long-lasting, mutually beneficial relationship with patients and are committed to providing high-quality comprehensive dentistry in an environment that is both mellow and upbeat. We work together to give patients the most comfortable and convenient dental experience possible and are also able to assist you in both English and Spanish. New Image Dentistry & Orthodontics invites you to get to know Dr. Aaron Ivanhoe, Dr. Michael Dodd and Dr. Dominic Tam better by reading their bios below!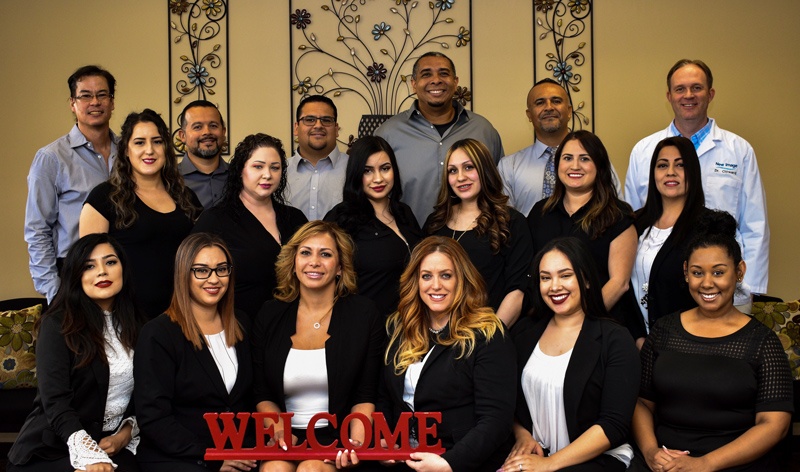 Aaron Ivanhoe, DMD, MS
Dr. Ivanhoe loves working with patients and parents to construct beautiful and healthy smiles. Nothing makes him happier than seeing his patients beaming with confidence and smiling from ear to ear.
A native of the Valley of the Sun, he grew up in Chandler. Since the age of 3 he's had a soccer ball at his feet. He's been an avid Arizona sports fan for as long as he can remember.
He attended Corona del Sol High School in Tempe, and continued the Sun Devil tradition in his family by going to Arizona State University (ASU) and graduating summa cum laude with honors in kinesiology.
He moved across the country to attend the prestigious University of Pennsylvania (UPenn) School of Dental Medicine, where he finished at the top of his class. Following his childhood dream of being an orthodontist, he moved to Portland, Oregon where he completed his orthodontics residency at Oregon Health & Science University (OHSU) and met his girlfriend Rachel. He has since moved back to Arizona, closer to his family and the everlasting sunshine.
Dr. Ivanhoe is a Diplomate of the American Board of Orthodontics, and a member of the American Association of Orthodontists® and the American Dental Association®. He has been inducted into the Omicron Kappa Upsilon Dental Honor Society and the Alpha Omega International Dental Fraternity.
In addition to providing excellent care for his patients, Dr. Ivanhoe is committed to serving the community in which he grew up. He takes great pleasure in volunteering his time at food banks, public health organizations, and various philanthropies.
When he's not straightening teeth or volunteering, he enjoys spending time with his family, traveling, hiking, camping, fine arts, cooking and just about anything involving sports.
Michael Dodd, DDS
Dr. Dodd practices general dentistry with a focus on aesthetics. He is able to provide the latest in cosmetic procedures including teeth whitening, porcelain veneers and crowns. Dr. Dodd graduated from the University of Colorado School of Dentistry in 1999 and has additional training at the prestigious KOIS institute in Seattle, Washington. He was born and raised in Honolulu, Hawaii and has been practicing in Arizona since 1999. He enjoys giving back to the community by volunteering at St. Vincent de Paul, a non-profit organization focused on providing individual care, nourishment and resources to those in need. Dr. Dodd's interests include tennis, mountain biking and motorcycle track riding.
Dominic Tam, DMD
I was born in Taiwan. I moved to the U.S. in 1988 and attended high school at the San Francisco Bay Area. I graduated from UC Berkeley and attended SFSU for graduate study then worked at UCSF doing research from 1999 to 2002. I attended Boston University Goldman School of Dental Medicine and graduated in 2006 with honors. I then worked at University of Medicine and Dentistry at New Jersey as an oral surgery intern from 2006 to 2007. I moved from Pittsburgh, Pennsylvania, to Phoenix, Arizona. I focus on general dentistry, implants, orthodontics, and full-mouth reconstruction/All-on-4® hybrid prosthesis. For fun, I like swimming, running, badminton, cycling and hiking, and I also love spending time with my family and two dogs, explore the wilderness and learn how to lose weight.
Tara, Dental Hygienist
Tara is an Illinois native and has been a dental hygienist since 1988. Shortly after receiving her degree she moved to the Phoenix area where she practices four days a week. She is also laser and anesthesia certified. Tara is committed to learning and mastering new dental techniques and technologies. She has two children, a son who is a graduate of Arizona State University with a biochemistry degree and a daughter who is currently at Northern Arizona University. In her free time, Tara enjoys spending time with her family, going to the gym and traveling.